What is Virtual Design and Construction (VDC)?
Whilst Building Information Modelling (BIM) is more and more widely used on construction projects, Waldeck has taken the next step to ensure that virtual Asset Models are used in a practical, efficient and effective manner throughout their whole lifecycle as part of our broader 'Digital Twin' offering.
VDC is made up of three key elements: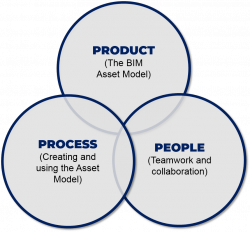 Through Virtual Design and Construction (VDC), Waldeck is able to align the digital model (product) with the design, project processes (process) and the stakeholder's requirements (people). We are then able to produce quantifiable results throughout the whole lifecycle of an asset, from construction to operation and maintenance, leveraging benefits such as:
Time schedule optimisation and monitoring
Project planning optimisation
Reduced costs, variations, delays and disputes
Automated quantity take-offs
Transparency of design options and management of change
Enhanced model based communication and collaboration techniques
Facilities which are fit-for-purpose and meet the requirements of the client needs beyond Capex stage
Improved health and safety training
Improved operational asset and facilities management
Our Solution
VDC complements traditional Architecture, Engineering, and Construction (AEC) management services by offering additional digital and technology enhancements to an intelligent Digital Information Model (3D), impacting the following:
Visualisations and reality capture
Virtual, augmented and mixed reality techniques for scenario testing and communication of potential outcomes
Unique integrated 3D-4D-5D single model for informed prediction
Design options and change testing
Site logistics and safety planning
Project team collaboration
Visual scheduling and planning (4D)
Quantity take off and cost estimation (5D)
Virtual work-package coordination, planning, and clash detection
Multi-disciplinary integration
Configuration management
Virtual constructability reviews including toolbox talks
Sustainability modelling (6D)
Commissioning data, facilities management and systems integration (7D)
Waldeck are a progressive and proactive Engineering and Technology company that recognise the positively disruptive influence digital tools and workflows are having on asset owners, asset developers, traditional construction and property businesses. Our Operations team work proactively with our Research and Development (R&D) Department, Partnered Academic Institutions, numerous leading clients in their respective sectors and technology partners to create and deliver bespoke solutions to suit what is asked of us in delivering practical but smart solutions that create efficiency, value and certainty of outcome.
Find out more
Interested in finding out more about our Virtual Design and Construction solutions?
Get in touch with our experts by calling 08450 990285 or email us here.