Waldeck see future collaborations in China
September 18, 2018 8:10 am
Last week, Waldeck hosted teams from China Communications Construction Company (CCCC) and Cardiff University to discuss future collaborations and updates on the Industry Foundation Classes (IFC) – Ports and Harbours project.
Mark Greatrix, Associate Director at Waldeck welcomed experts from across the two companies to our Bristol office, before presenting Waldeck's broad range of services, focussing on a detailed overview of Waldeck's BIM and Technologies offering.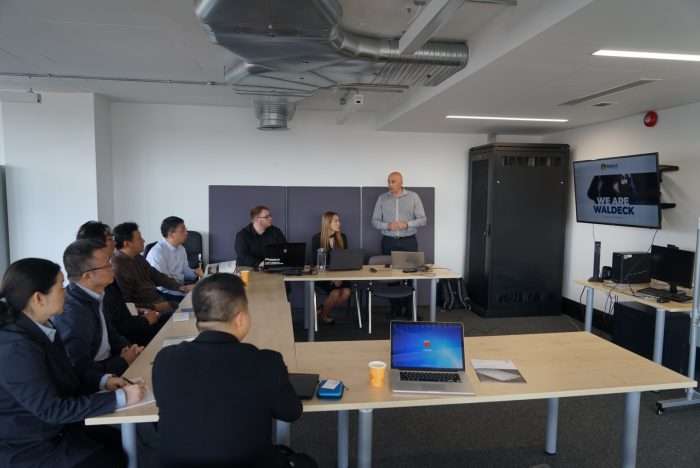 Mr Honglei Qin, Senior Engineer at China Communications Construction Company presented a company overview, before going in to a more detailed discussion about their BIM Standard for Port and Waterway Engineering in China.
Mark Greatrix, shared: "Some good progress is being made on the IFC project, with the team involved complementing each other very well, combining a diverse range of sector expertise.
"We saw a large focus on the discussion of well-structured data and its importance for supporting interoperability on project based tasks, such as; 4D and 5D BIM and then the digital asset lifecycle uses.
Mark concluded: "Towards the end of a very successful meeting, we saw the first steps of potential future partnerships with both, China Communications Construction Company and Cardiff University, having mutual sector and technology based collaborations."
To find out more about our Technologies offering, please contact Mark Greatrix via email here or by calling 08450 990285.