Following this news, we caught up with Connor about his career journey so far and what being a finalist means to him:
Hi Connor, tell us a bit more about your time at Waldeck so far?
My career at Waldeck started following the realisation that I was in a role in the manufacturing industry which I felt had no clear opportunity for progression and didn't suit my long-term career ambitions.
Following a successful interview process with Waldeck, I joined the team in February 2022, and have since been in a new hybrid role of "Trainee Technician" which sees me working cross-disciplined between both our Lincoln-based Architecture & Digital Captures teams. The role has also seen me working on both single and multi-discipline projects, collaborating with other branches within Waldeck such as Civil, Structural, Mechanical and Electrical Engineering.
Image: Connor with some of the Architecture team following RIBA certification
My role as Trainee Technician was a brand-new role as of Feb 2022 for the business, which came about following the amalgamation of two of the teams (Architecture and Digital Capture) under one Director (Stuart Denniss).
This organisational change created an opportunity for this new hybrid role, seeing me supporting both of the established teams by operating as the linchpin between them, with the aim of improving the collaboration between the two departments to enhance Waldeck's offering to clients and overall project delivery, through better combining, aligning and utilising the skills from both teams.
My day-to-day role includes a mixture of office and on-site working, with support from senior members of the team to develop my skills and knowledge across the two different workstreams.
As well as this core role, I have also trained as a Fire Marshal for the office, and completed by First Aid at Work course. I have recently been asked to take on the role of Health & Safety Champion for the Wellingore office too, which will include working with the wider SHEQ team to ensure the office remains safe and up-to-date.
What has your professional development journey looked like?
When I joined Waldeck I was in the middle of undertaking an HNC in Mechanical Engineering at Lincoln College. Even though I changed roles during the course, I was committed to finishing it, and Waldeck offered me an opportunity to complete the course alongside my new role, with day-release to College.
On completion of the course through Lincoln College, I was delighted to come out with the top mark of a distinction whilst also picking up the 'Student of the Year' Award. Although this was associated to a different field of work, I picked up lots of different transferrable skills which have helped my transition into the construction industry.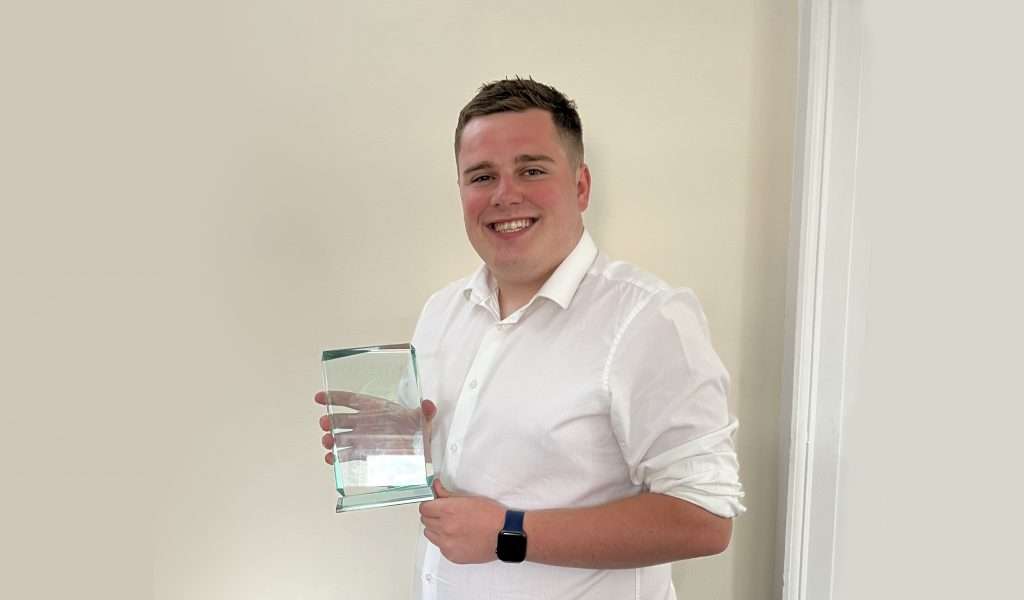 Image: Connor with his 'Student of the Year' Award
Since completing my HNC, I have chosen to continue my learning journey through starting a degree in Architectural Technology at Sheffield Hallam University. This is with the aim of becoming an Architectural Technologist on completion of the course.
Between work and university, I often find myself doing research into new technologies and trends within the construction industry. This is with the aim of not only my own development, but also wanting to help the company adapt to these trends and be at the forefront of championing these new technologies.
What would winning this award mean to you?
My journey started with Waldeck in February 2022, and I have gained a whole wealth of experience in a short period of time. This has been demonstrated in the projects I have worked on and the quality of work that has been produced. I have gone from having no experience to being able to work as a member of the project delivery team. I have fully immersed myself into the environment I am in and embraced the opportunity I have been given. The role I find myself in, I feel, has been quite a rare opportunity, given the quality of colleagues I am working with and the technology I am also working with, is not something which is lost on me, and I feel as if I have really "taken the bull by the horns" so to speak. I have a strong desire to succeed in my career and this award would just be the beginning, and prove that the hard work does pay off!
It's also important for me to share with others that they don't need to get stuck on a career pathway if they aren't happy with it, I know I'm relatively young but it's never too late to do what you feel is right for yourself. Only 18 months ago, I was working in a completely different industry, and since then I have begun to learn the ropes of two new disciplines in a job I can truly say I love.
Winning this award would be a massive boost for my career. Having recently changed industries and roles, it would really allow me to prove to people within the industry what I am capable of. It would also help inspire other younger people who are apprehensive about joining the industry, as it would show what can be achieved in such a short space of time. Although the award is for an individual, it would also show the rest of my colleagues that their time, effort, and persistence in guiding me has been worth it too, as they are the people who have really helped me and get stuck into these projects.
Director of Architecture & Digital Technologies, Stuart Denniss, shared:
"Connor and his role have been pivotal to the success of the Digital Capture & Architecture team over the past 18 months. It's clear to see the hard work and passion that Connor has for his career and own personal development, but more than that, Connor is a team player and has already proved himself as a valuable asset to the Waldeck team."

"When I first met Connor, he excelled in his interview for his attitude, and although employing someone with no industry experience for such an important role was a risk to the business, I truly believe it has been one that has paid off.

"Connor and his role have had such a positive impact on the team, not only due to the streamlining and collaboration aspects which have improved efficiencies and project delivery, but also due to the flexible nature of his role and his 'can-do' attitude. Connor has been a valuable team player in terms of our resourcing, supporting the peaks and flows of the workload curve as projects progress and as the team has continued to grow. By taking each opportunity to say 'yes' to getting involved in projects, Connor has benefited the team's success and turbo-charged his own learning.

"Connor has proved himself so far and has set himself up well to build a successful career at Waldeck and within the construction industry. Well done Connor and good luck for the award!"
---
Connor will be joining colleagues from across Waldeck at the awards dinner at the Macdonald Burlington Hotel on the 7th December.
This annual event organised by Insider brings together businesses from across the region to celebrate the exceptional young talent working within local organisations.
View the full shortlist here >