Waldeck have been supporting the scheme by providing Employer's Agent duties for the development, which was given the green light to build the much needed new homes on the former factory site by Telford & Wrekin Council in February 2022.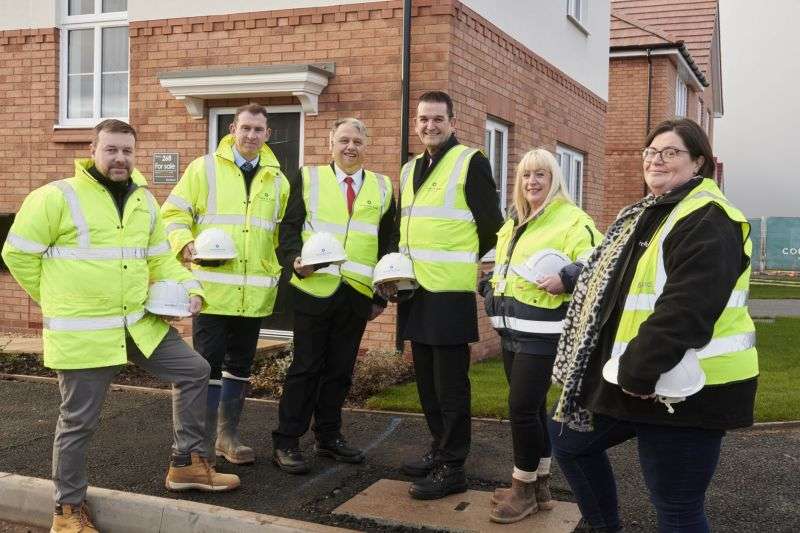 The homes will be set in beautiful landscaping, including an open space with children's play area, flood attenuation areas and better footpaths and cycle routes linking the surrounding woodlands. There will also be new links to the A442 Queens Way.
The affordable homes comprise two, three and four-bedroom properties and help to fulfil a wide range of local housing needs and providing high quality living environments for many families in the region.
Everyone involved has been delighted to see the first affordable homes ready to be lived in under a year later:
Councillor Richard Overton (Lab), Telford & Wrekin Council's Deputy Leader and Cabinet Member for Housing, Enforcement and Transport, said:
"We are delighted that these homes at Charlton Gardens are now complete which are high quality properties to live in and are modern and affordable.

"We are committed to improving housing in the borough and increasing the affordable housing choice for our residents."
Phil McHugh, Managing Director, West Midlands, Countryside, commented:
"We are proud to handover these high-quality homes to our partner, Bromford, to help meet the critical need for affordable local homes in the Telford area.

"Furthermore, they are set in a development that has been designed to help its residents thrive with for example children's play areas, nature on its doorstep and excellent travel links, including improvements to make walking and cycling easier and safer."

Emma Bannister, Locality Manager at Bromford, said: "We are delighted to take handover of these properties, which not only are of great quality, but will really offer the opportunity for our customers to thrive in this setting.

"There is no better part of the job than being able to offer customers a new home to make their home and to support them to build a cohesive community."
Graham Wright, Commercial & Risk Management Director at Waldeck, shared:
"Waldeck were very pleased to support Countryside Partnerships in the identification of a preferred partner RP for the s106 and additional units to Bromford. We have been supporting the scheme by providing Employer's Agent duties for the development, which is one of several projects we are working on with both parties in the Midlands."
---
Photo: L-R: Bromford Senior Marketing Co-ordinator Simon Allen, Countryside Partnerships Managing Director Phil McHugh, Telford & Wrekin Council Cllrs Richard Overton and Paul Watling and Bromford Project Manager Tracey Brewer and Locality Manager Emma Bannister.