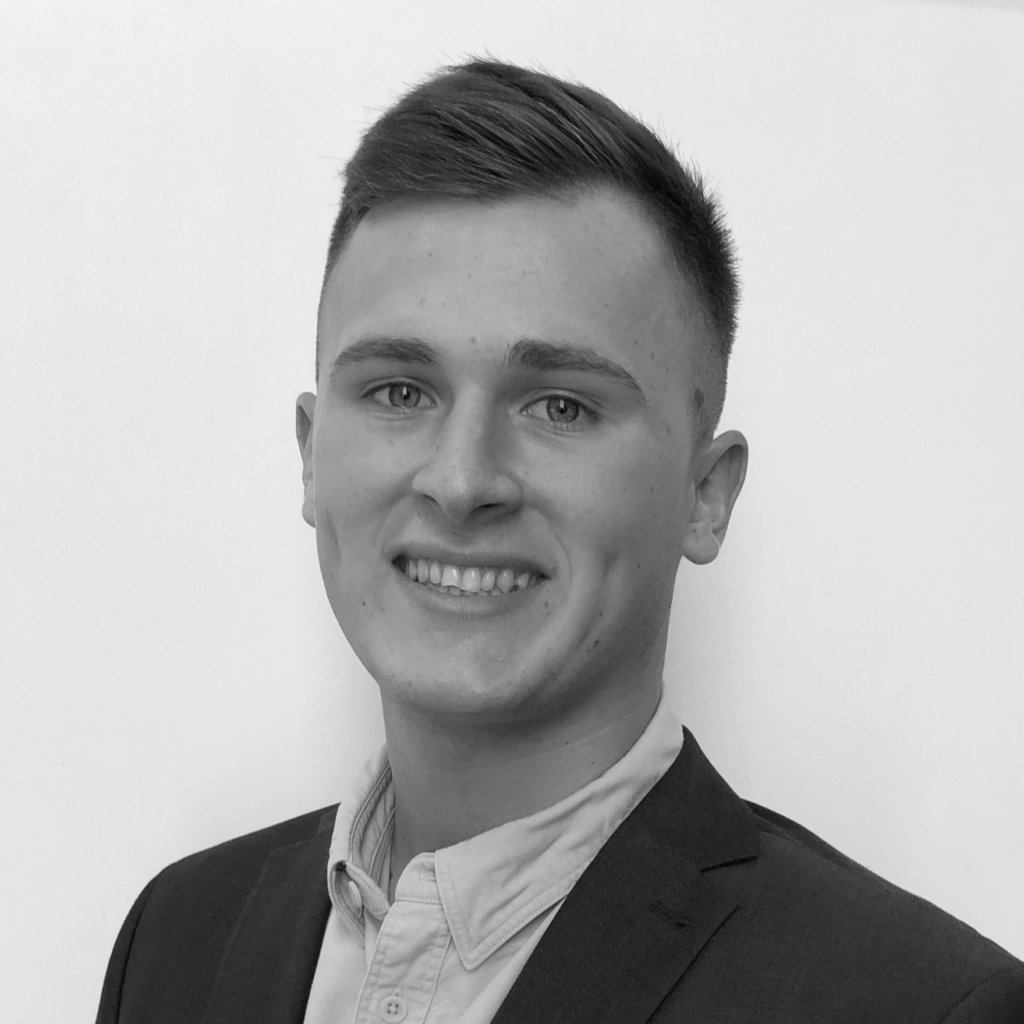 George joined Waldeck in 2018, where at the age of 20 we welcomed him as an Assistant Electrical Engineer as part of the M&E Team. George then enrolled onto the degree apprenticeship scheme in 2019, studying BSc Building Services Engineering at Leeds Beckett University, which he completed in 2021 with a First Class Honours degree.
In September 2021, George enrolled onto a MSc Building Services Engineering course, which he is now studying for alongside his role at Waldeck.
We are also delighted to share that George has just been promoted to Senior Electrical Engineer!
Hi George, congratulations! Tell us more about your experience of doing an apprenticeship?
Thank you! My apprenticeship was a degree apprenticeship, which meant balancing University studies alongside working at Waldeck on live multi-disciplinary projects for a variety of clients.

I was involved in a variety of projects at the time including Energy from Waste (EfW) schemes and new-build hotels as well as retail, rail, and education sector projects.

My main roles were to work closely within the M&E Team, carrying out the electrical tasks required on projects including, calculations, drawings, specifications, document control. Since starting at Waldeck with no previous design experience I have become proficient in using, Relux, Amtech, Revit, AutoCAD. My role has since expanded as my experience and skillset has grown.

I also completed CPD Seminars and short courses such as BIM Essentials, as part of the workplace learning which was a requirement of the apprenticeship.
What first interested you in a career in construction?
I have always been interested in engineering and construction from a young age. At 16 I managed to get a placement at an electrical contractor becoming a Level 3 Electrical Installation Apprentice.

From this time the apprenticeship route has always appealed to me and therefore I moved to Waldeck as a career progression but also due to Waldeck's employee investment commitments via training.
What has been your personal career highlight so far?
I have really enjoyed being able to transfer my onsite skills into the role I now perform at Waldeck. Understanding the tasks which the onsite operatives need to undertake, helps in producing designs which ensure 'buildability'. I enjoy working as part of a team at Waldeck, as well as building relationships clients and other disciplines within the projects.

Working directly with contractors on projects giving them solutions as well as gaining good feedback, on Waldeck's quality of work, is a personal highlight.
What are your plans for the future?
As part of the Degree apprenticeship's End Point Assessment, I have gained Incorporate Engineer (IEng) status. This have has given me a good foundation to apply for Chartered Engineering (CEng) status upon completion of the MSc Course which I am currently enrolled on as well as gaining valuable experience within Waldeck.

Within Waldeck I hope to be a critical part of the M&E team and work towards project managing complex projects. I also hope to become a role model and mentor to younger engineers as I am able to offer advice on their training options to encourage future engineers in achieving their career goals.

I'm also delighted to have been promoted to Senior Electrical Engineer, and look forward to continuing to prove myself to the team and clients as I take on this new role.
In the face of a skills gap and lack of people choosing a career in STEM subjects, how would you inspire someone to take a similar route into the workplace?
Apprenticeships are available in a huge variety of subjects now, especially within STEM subjects. I would encourage any aspiring young person to find something which interests them and apply for an apprenticeship in that field.

Apprenticeship's are a great route into a career as you are performing the job within the workplace whilst studying at college or university. The skills you learn in the workplace are beneficial to the classroom and vice versa. There is no cap on how far you can take your training or career after completing an apprenticeship.
---
To find out more about Waldeck's Mechanical & Electrical Building Services Design capability, please contact George and the team by calling 08450 990285 or send George an email here.