The UK's port industry is now facing one of its greatest challenges in dealing with the fall-out from Brexit. As an island nation with 95% of our trade in goods being handled by our ports, the impact of additional processing and checks at our borders from a hard Brexit threatens to send a ripple effect across UK business.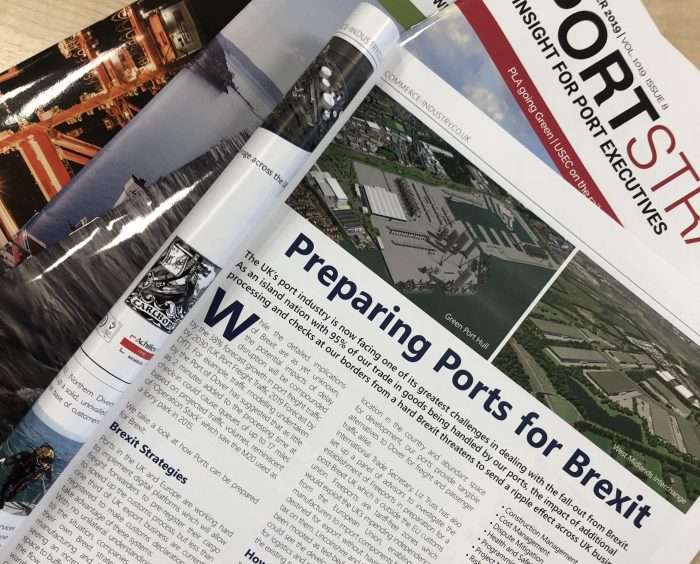 While the detailed implications of Brexit are as yet unknown, the potential impacts of delay disruption will be compounded by the 38% forecast growth in port freight traffic by 2030 (UK Port Freight Traffic 2019 Forecast by DfT).
For example, traffic modelling undertaken by the Port of Dover has suggested that as little as 2 minutes added to the processing time at check-in could cause queues of up to 17 miles based on projected traffic volumes, reminiscent of 'Operation Stack' which saw the M20 used as a lorry park in 2015.
We take a look at how Ports can be prepared for Brexit:
Brexit Strategies
Ports in the UK and Europe are working hard to implement digital platforms which will allow freight forwarders to pre-register their cargo to speed up the customs process, but less than one third of UK export business are currently registered to make customs declarations and take advantage of these systems.
With no unilateral understanding or approach to the situation, companies are implementing their own Brexit strategies and across the manufacturing and logistics sectors, we are seeing an increased requirement for storage space to buffer the potential impacts of Brexit on the flow of stock, with many of our customer's warehouses and container yards filled to capacity.
With all this in mind, ports need to be planning to create flexible space in their hinterlands, providing additional parking places to safeguard accessibility and mobility of cargo, and preparing to offer more warehousing and storage space for containers and landed cargoes. Furthermore, the opportunities for modal shift from road to rail to ease pressure on road networks, underpinned by the Government's Rail Freight Transport Strategy and increasingly supported by the freight forwarders, need to be explored.
Opportunities from Brexit
For ports in Lincolnshire and the Humber, Brexit offers a real opportunity for diversification and growth. With access to deep water, a central location in the country and abundant space for development, our ports provide tangible alternatives to Dover for freight and passenger traffic alike.
International Trade Secretary, Liz Truss has also set up a panel of advisors to investigate the establishment of Freeports in preparation for a post-Brexit UK which is outside the EU customs union.
Freeports are tariff-free zones which would exploit the UK's impending independence from the European Union, enabling UK manufacturers to import components for goods destined for export without having to pay UK tax on them. Lincolnshire and the Humber have been mooted as test-beds for Freeports, which could see the development of enterprise parks for logistics and manufacturing, on and around the existing ports.
How Waldeck can help
As a technology-enabled engineering consultancy, we have experience working with high profile clients on their operations across the UK.
We provide survey, design and asset management advice to all sectors but primarily to logistics, industrial and manufacturing clients, and we are increasingly supporting our customers in exploring options to re-purpose and expand their existing estate assets. Our rail sector experience is also providing our clients a multi-modal view on their operations, ensuring that intermodal interfaces are considered in their plans.
To find out more about how we can help, please call Tim Leach on 08450 990285.