Last week, Waldeck's digital experts attended Digital Construction Week 2018 at the Excel in London.
In conjunction with the UK governments 'Year of Engineering', we focussed on this month's theme of 'Shaping the Future' to share our insights from the event.
Digital Specialist, Sagal Rooble, discusses her interpretation of some key topics from the event.
Technologies
As the construction industry evolves rapidly, emerging technologies and integrated processes are rapidly changing the way we plan, construct, maintain and utilise the built environment around us.
Technology will continue to augment the way we operate and will only become more prevalent as we enter an age of digitally enabled construction. However the maturing industry has developed core fundamentals that have founded its existence to date and provide important lessons learned that cannot be forgotten during this digital disruption. Successful solutions are typically an achievement of both man and machine.
In order to drive the industry forward it is imperative that organisations adopt the use of emerging technologies and disruptive processes to exploit the potential within the construction industry. Outputs harnessing data-driven analysis are already beginning to improve how the built environment is designed, constructed, and operated.
Lean principles have driven efficiency into a number of industries and now we are able to harness large data sets we can use this data to inform future decision making. We are beginning to see construction industry disruption from other industries where business founded on deep learning platforms and data-centric technologies such as Amazon enter into the marketplace.
On-site Operations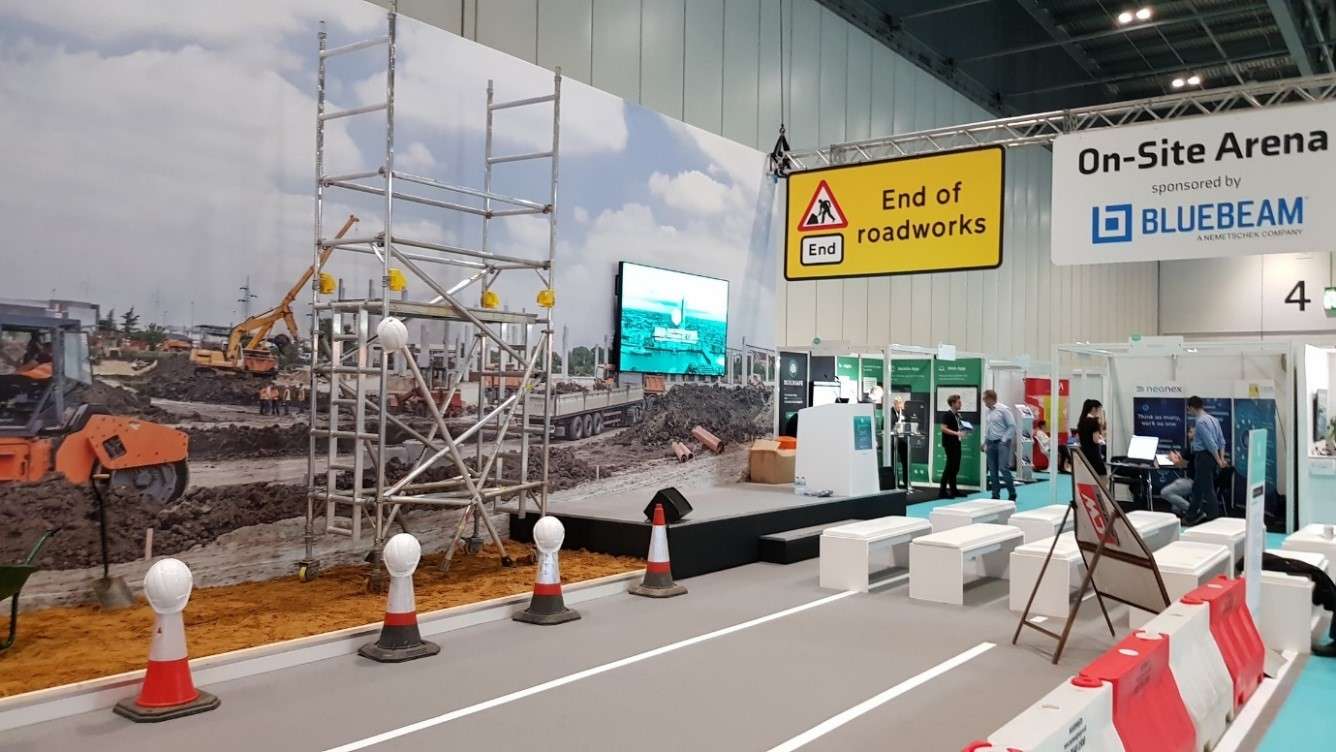 The Digital Construction Week 'On-Site Arena', sponsored by BlueBeam showcased just how much of an asset the use of technology on-site is proving to be as the industry continues to evolve. Benefits of technology for the future of on-site were demonstrated through:
The ability to correct and resolve issues that occur on-site much more quickly through the use of tablets, scanners and IoT
The stream-lining of snagging processes by being able to collaborate in the real-time and Mixed Realities (MR)
Wearable technology enabling the collection of real-time data. Anything that can be measured on site can therefore be tracked, analysed, reported and inform future decisions
Industry 4.0
Imagine a Construction Industry without ambiguity?!
Artifical Intelligence (AI) and its subsets; Machine learning, Neural Networks and Deep Learning hold the key to unlocking a delivery model previously only dreamed of. By automating activities previously undertaken by a person, repetitive tasks will soon become common-place for machines.
It was discussed that 'learning, unlearning and relearning is an everyday phenomena of modern day life'. We all have an obligation to learn about technology that we never knew we needed to know about.
Final Thoughts
Sagal concluded: "One of my key takeaways from the day, was that to see innovations and future innovations being implemented as part of the forwardness within our industry is amazing to see and very inspiring indeed. The future of technology however should not focus on reinventing the wheel time after time, because this is unsustainable.
However, if you are creating something new and absolutely unique with a real value, search for the offline processes, learn how it works and, then try to change the process with the help of technology and the digital tools available to you."
Statistics show that 36% of new technology implementation fails because of poor fit with current processes. If you want to bring about change, a great start is to look for solutions that are already working in other industries (probably after failing once or twice), and that with a small adjustment, can be applied to the AEC industry."