The new four-year framework which has social value at it's heart includes 113 approved suppliers; made up of 30 contractors and 83 consultants and will run until June 2024.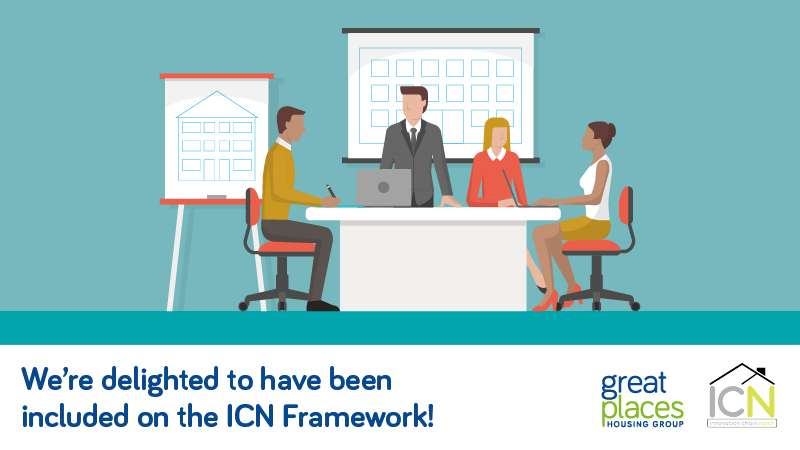 The framework has been designed to support delivery of new homes across the north of England, not only to support Great Places' very ambitious development programme but also those of other Housing Associations operating across the north of England. Waldeck have been successful on the following lots:
Building Surveying – North West and North East
Clerk of Works – North West and North East
Purchasers Agent – North West and North East
The successful organisations were selected based on their technical competence, price and their commitment to social value.
Helen Spencer, Great Places' Director of Development, said:
"We are delighted to be working with Waldeck on our new ICN framework. We are confident they will be able to work with us and the clients of ICN in delivering the sector's extensive development ambitions in the North. We were delighted to have a huge response from the market and receive high quality proposals and substantial social value pledges for our communities. We are now looking forward to mobilising the framework and working together on new projects with Waldeck supporting us with their Building Surveying, Clerk of Works and Purchasers Agent services."
Joanne Whitehead, Great Places' Procurement and Performance Manager, said:
"Well done to Waldeck and all the organisations who have been awarded a place on the framework. We received a large number of high-quality bids and we now have an excellent group of contractors and consultants covering a wide range of disciplines to support our housing delivery ambitions. Great Places and the other housing providers who access the framework look forward to working with them all in the future."
Graham Wright, Director of Commercial at Waldeck, shared:
"We are delighted to have been appointed on the ICN framework, which creates a fantastic opportunity for the Waldeck team to start replicating the work we are doing within the housing sector in other parts of the UK, across the north of the country too.

"The new framework ensures that organisations have tried and tested partners to help them deliver their extensive development programmes and to help collective ambitions to tackle the housing crisis, a movement which we are proud to be part of.

"This new framework bolsters our offering in the north west where we are currently building a client base and looking forward to growing our team over the coming months and years."
To find out more about Waldeck's Commercial or Housing capability, please get in touch with Graham Wright by calling 08450 990285 or by sending him an email.