Amy Cheeseman, Digital and UAV Capture Lead at Waldeck joined the Society of Façade Engineering (SFE) in London this week, to present the capabilities of drones for the surveying of façades.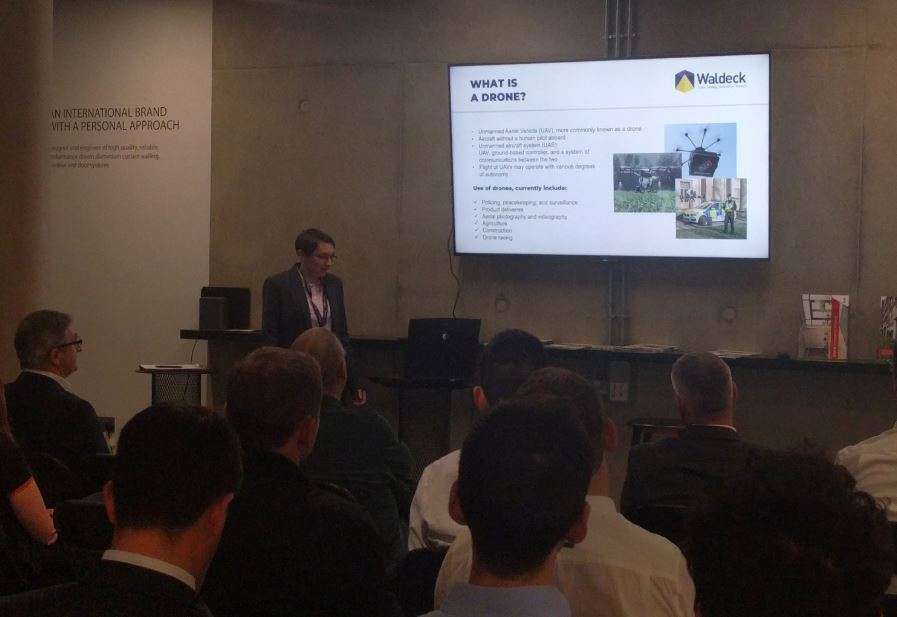 The Society of Façade Engineering (SFE) brings together architects, façade engineers, building services engineers, structural engineers and contractors to share advance knowledge and practice in facade engineering, promote good practice and ensure that today's increasingly complex building façades meet the many and varying performance criteria.
Amy, who has worked on large scale, multi-million pound capital projects across the UK, shared how a digital approach utilising drones, could benefit façade engineers through outputs including photogrammetry, point clouds, Global Navigation Satellite System (GNSS), photography, videography, thermal imaging and virtual tours.
Other key topics of interest included;
Benefits and Limitations
Drones are ideally suited for the 4 'D's which are; dull, dirty, dangerous and difficult jobs.
There is no denying that drones are a fast method of capture, meaning less time on site and therefore a reduction in the exposure to common site risks such as construction traffic. Manoeuvrability in the air means project teams no longer need to enter dangerous areas such as under bridges, whilst also eliminating the need for working at height.
The ability of a drone to fly autonomous missions allows for large areas to be mapped at a time, from which a variety of deliverables can be created, minimising time on site and the need for revisits. When combined with GNSS it is possible to achieve high accuracy data.
However, drones do have their limitations, namely weather and airspace. Although IP rated drones are available, there is still a limit to flying in high winds and rain. As well as risking damage from water ingress into the electrics, rain will also obscure the lenses of sensors compromising the data captured.
There are also many places in the UK where it is illegal to fly a drone, or where special permission must be sought in advance of any flight, which is why it is important to work with experienced UAV pilots who have permission to fly drones commercially from the Civil Aviation Authority (CAA), such as the Digital Capture Team at Waldeck.
The future of drone capability
As technology continues to advance, drones will continue to enable faster capture of sites, and higher accuracy of data.
Amy expanded: "The future of drones within our area of interest is dependent on the development of new technologies. As new energy sources are developed such as high capacity batteries, not only will flight times increase but more powerful sensors can be incorporated."
Adding: "Further developments will also come from Artificial Intelligence (AI) and Machine Learning. Integrating AI and Machine Learning will allow for data to be automatically extracted from a drone's video and photos, analysed, categorised and then reported."
Rebecca Dawson, who organised the evening, shared: "On behalf of the Society of Façade Engineering, I wanted to thank you immensely for coming to give one our Technical Talks. It was incredibly interesting and I know those who attended were really enlightened into how complex the procedure of drone surveying was. It was an area of expertise that I know was new to a lot of those there that evening."
To find out more about Waldeck's Digital Capture capability, please visit our website or call the team on 08450 990285.