The Lincoln 10k is a renowned annual event that attracts thousands of runners from all over the country. This year, Waldeck joined the ranks of participants, not only for the physical challenge but also to support a worthy cause – reaching a final donation total of an impressive £2,030.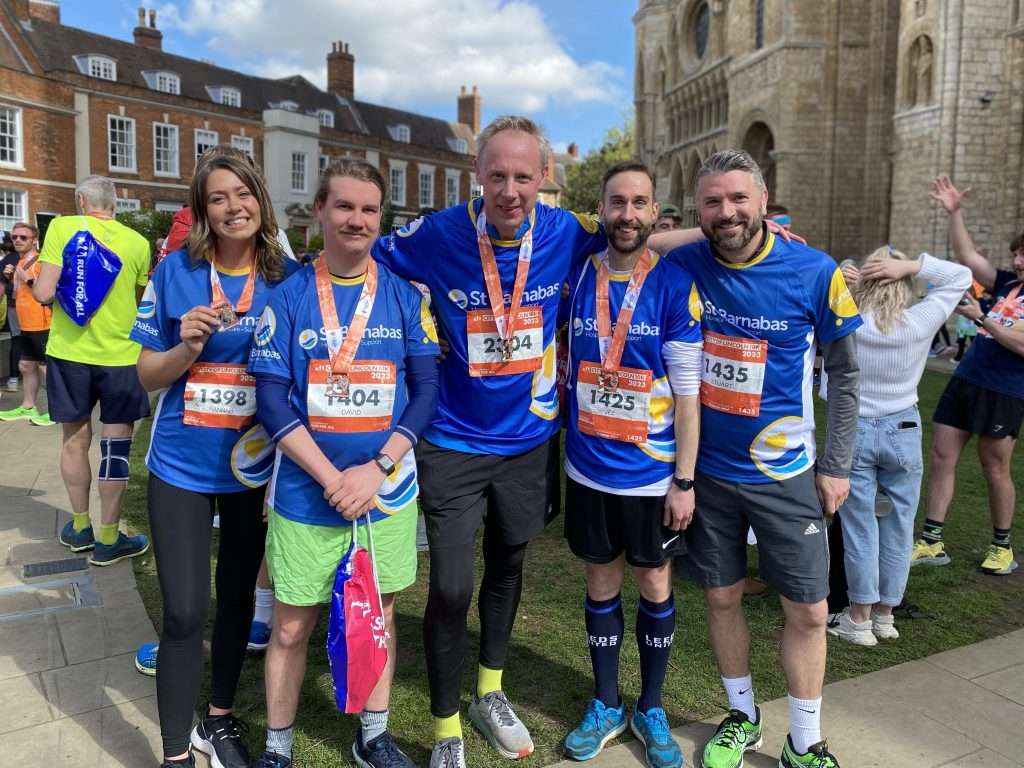 After the race: (Left to right) Hannah Cook, David Foster, Will Green, Jerome Brook, Stuart Denniss
St Barnabas Hospice, a local charity based in Lincolnshire, provides compassionate care and support to individuals and families facing life-limiting illnesses. The funds raised will go towards providing vital care and support to patients and families in need, including specialist palliative care, emotional support, and practical assistance.
Head of Marketing, Hannah Cook, who took part in the race for the first time, shared:
"We are thrilled to have participated in the Lincoln 10k and to have raised such a significant amount for St Barnabas Hospice, who have provided amazing care for some of our loved ones both past and present.

"To say I could only run about 10 metres back in January wouldn't be an understatement, so getting to race-day has definitely been a journey. I'm so grateful to the team for getting me through, and to everyone who has supported us and donated along the way!"
Stuart Denniss, Director at Waldeck commented:
"2023 marks the 12th year anniversary since my father passed away, I will never forget the great palliative care and support from the wonderful team at St Barnabas. As such, this year was my 12th time doing the Lincoln 10k to fundraise for the organisation, and it was great to be joined by some of my colleagues from across our Lincoln Head Office too.

"To echo Hannah's words, I'm delighted that we have raised such a fantastic amount of money, with thanks to everyone who has shown their support. Also, with special thanks to Waldeck who matched our fundraising total of £1,015, meaning we exceeded the £2,000 mark!"
Photo: Steve Smailes for The Lincolnite

Photo: Marathon Photos Live
St Barnabas Hospice also expressed their gratitude to Waldeck for their contribution.
Chris Dunkley, Fundraising Officer at St Barnabas Hospice added:
"We are incredibly thankful to Waldeck for their fundraising efforts. Their generosity will make a meaningful impact on the lives of patients and families facing serious illness. It is heart-warming to see local businesses like Waldeck come together to support our cause."

"The success of Waldeck's fundraising efforts demonstrates their commitment to corporate social responsibility and their dedication to making a positive impact in their local community. The company's participation in the Lincoln 10k and their generous donation to St Barnabas Hospice serves as an inspiration to other businesses and individuals to get involved in charitable initiatives and give back to those in need."
Chris is above with Stuart and Hannah at St Barnabas' Lincoln Office for the handing over of their cheque.
More about St Barnabas Hospice:
St Barnabas Hospice is a local charity based in Lincolnshire, that provides compassionate care and support to individuals and families facing life-limiting or terminal illnesses. The organisation offers a range of services, including specialist palliative care, emotional support, practical assistance, and bereavement support. St Barnabas Hospice relies on the generosity of donations and fundraising efforts to continue providing their vital services to those in need.