UK based consultancy, Waldeck Consulting, have been appointed as part of a consulting team led by HKA Global Ltd by the Airport Authority Hong Kong (AAHK) on the US$18bn expansion programme at Hong Kong International Airport (HKIA).
Hong Kong International Airport has been experiencing significant growth rates in passenger and cargo traffic and aircraft movements in the past decade. It is estimated that the airport will handle 102 million passengers, 8.9 million tonne of cargo and 607,000 aircraft movements a year upon the commencement of operation of the Three Runway System (3RS).
Working in partnership with leading global construction, manufacturing and technology consultancy, HKA Global Ltd, Waldeck will deliver Strategic BIM and Digital Management Advisory solutions as part of the 3RS Project Framework Agreement for Planning, Programming, Risk and BIM consultancy services.
The 3RS is the largest project and extension to HKIA since 1998, adding about half of the size of the current airport island. The future extension will sustain the position of HKIA as a leading international and regional aviation hub, capable of meeting future air traffic growth.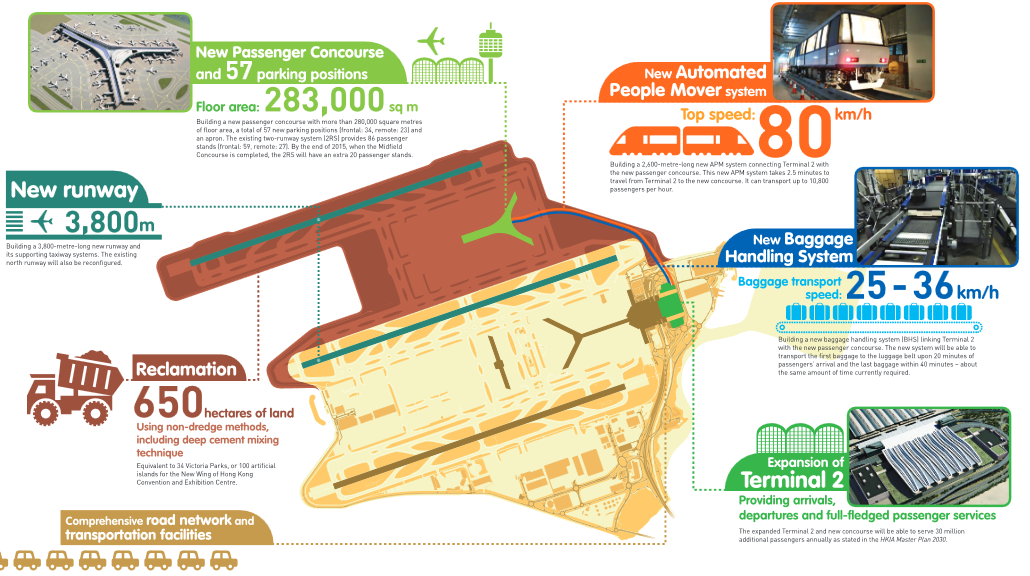 Image source:http://info.threerunwaysystem.com/pdf/en/3rs_infokit.pdf
Paul Waldeck, Founder & CEO of Waldeck commented on the appointment saying:
"Waldeck is honoured to be working with HKA Global Ltd. and Hong Kong International Airport (HKIA) on this prestigious programme of works, our expert involvement providing digital strategy solutions will enable HKIA to harness digital efficiencies of the 3RS project lifecycle and beyond, future proofing the airports operations."
The project consists of seven major elements:
Construction of the Third Runway:The new runway will be 3,800 meters long and is expected to enlarge the maximum capacity of Air Traffic Movements ("ATMs") to 102 movements per hour.
Land Reclamation:Approximately 650 hectares of land will be acquired.
Construction of new passenger concourse and parking positions:A new passenger concourse with more than 280,000 square metres of floor area, and a total of 57 new parking positions and an apron will be built to support the new runway.
Expansion of the existing Terminal 2 building:The expanded Terminal 2 and new concourse are targeted to serve an addition of 30 million passengers annually, providing arrivals, departures and full-fledged passenger services.
Provision of a new Automated People Mover system:A 2,600-metre long new APM system with an integrated maintenance depot will be extended to connect Terminal 2 with the new passenger concourse.
Provision of a new Baggage Handling System:The new high-speed system, which links Terminal 2 with the new passenger concourse, aims to keep the current service level to transport the first baggage to the luggage belt upon 20 minutes of passengers' arrival and the last baggage within 40 minutes.
Construction of comprehensive road network and transportation facilities:A multi-modal transport facility will be built to provide additional coach parking, taxis and limousines staging areas, pre-booked taxis pick-up area, for connecting services from and to the HKIA.
For more information about Waldeck's Strategic BIM and Advisory services, please contact Paul Waldeck via email or by calling 08450 990285.