Lincoln University Technical College (UTC) opened in 2014 and is Lincoln's specialist science, technology, engineering and mathematics school for 14-19 year olds. The school is sponsored by the Baker Dearing Educational Trust.
Mechanical & Electrical (M&E) Building Services Director, Adam Machan and Graduate Mechanical Engineer, Aaron Wakeling visited the College to share an insight into the Building Services aspect of engineering with a group of 25 Year 10 – Year 13 students, who had given up their lunch break to join the session in the College's auditorium.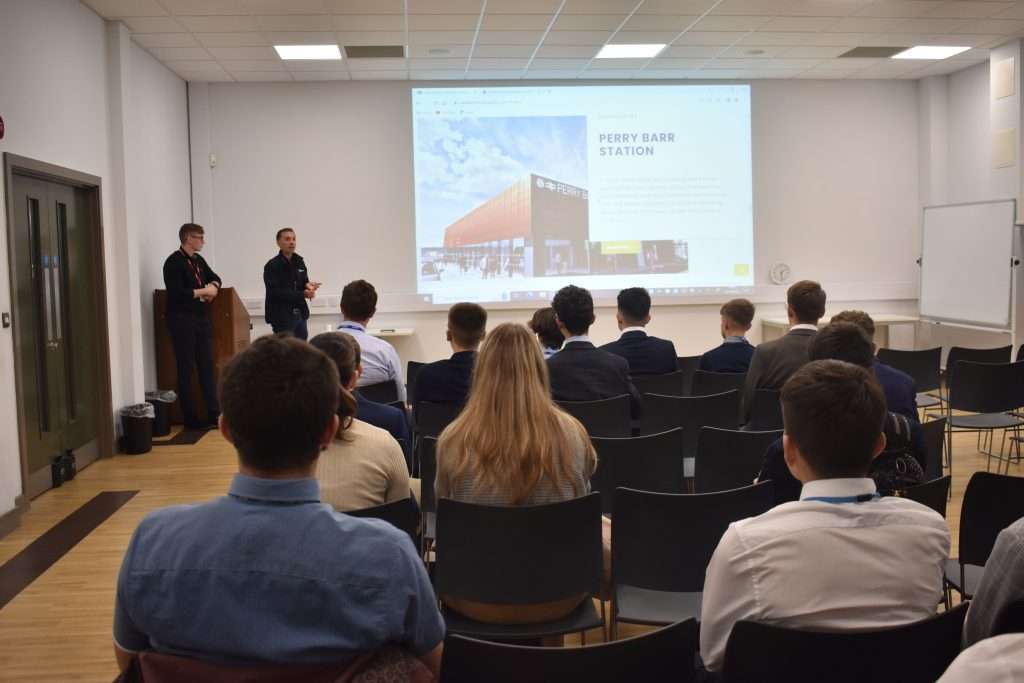 During their visit, Adam and Aaron were also given a tour of the facilities available to the students on the engineering floor.
Adam Machan shared:
"We were delighted to be welcomed to Lincoln UTC to share some of our experiences and insights into industry with the students, the enthusiasm and curiosity of the group was extremely impressive, as was the complexity of some of the machinery we saw on our tour!

"It was great to be able share with the students more about what Waldeck do, particularly within or M&E and Digital Capture teams, hopefully also demonstrating how many of their skills are transferable into industry on completing their studies.

"We're pleased to be in talks with Paul James (HoD Business & Industry Links Lead) and the Lincoln UTC team about returning to deliver additional sessions with students, aiming to talk more in depth about the different software's used in industry and showcase how these are used on real projects."
Aaron Wakeling, who made the introductions between Lincoln UTC and Waldeck, is previous student of the College, having completed his Triple Engineering at BTEC Level 3. Aaron shared:
"It was a great experience to be back at Lincoln UTC, seeing all the staff and how much the school had progressed and evolved since my time there was just amazing! It was great to share with the students why studying engineering at their age can play such a huge role in their career further down the line and show them some of the major projects Waldeck have been working on.

"The students showed a real passion for this side of engineering so I look forward to returning the to College to showcase to them the capabilities of the software we use and some more of the current projects we are working on as a team."
A big thank you to Lincoln UTC for having us, and we look forward to continuing our collaboration in the future.