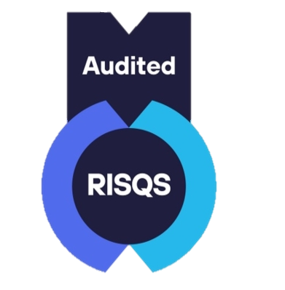 Formerly known as Link-up, The Railway Industry Supplier Qualification Scheme (RISQS) is the supplier pre-qualification service used by buyers of all products and services throughout the UK rail industry. This provides the industry with ownership and governance of its supplier qualification arrangements.
We caught up with our Senior Compliance Office, Michelle Carroll, to find out more:
"This certification is just one of the ways we show our on-going dedication to continuous improvement as a supplier to the UK railway industry and demonstrates our commitment to our customers.

"RISQS is one of many successful ways to showcase Waldeck in front of the industry's biggest buyers. It ensures we are verified and visible, demonstrates our capability and avoids duplication of client audits."

"We can view our own evaluation and score via the online service along with our product code status. The online service also enables us to update our capabilities and profile as often as we like, meaning that our capabilities are always up to date for our current and potential clients to view, making the process much simpler for clients across the industry."
Qualifying for RISQS involved the completion of their online RISQS Portal and the selection of our relevant RICCL codes for the coming year.
Some code groups required registration only, whereas others required qualification through an on-site audit with an external RISQS auditor who audited Waldecks Management Systems, Personnel, and Infrastructure to ensure that it is adequate to meet Network Rail's stringent standards for: Rail Safety, Construction Safety, Quality, Environmental Performance and Business Continuity.
Take a look at our other accreditations and certifications here >