Ideally situated just a ten-minute walk into the market town, 'Queenswood' will provide high quality living space and wraparound care and support for people over the age of 55, offering a mix of one and two-bed apartments, private gardens and a café.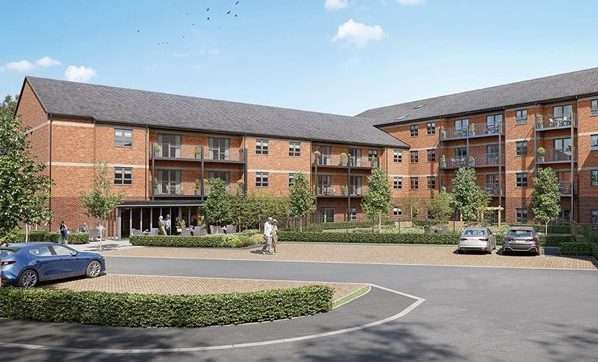 Groundworks have already started, with a 20-strong team expected on-site from March 2023 and an aim to complete the development in Spring 2025.
Charlotte Prince, Development Manager at The Wrekin Housing Group, explained:
"Our new Extra Care scheme will bring huge benefits to Newport and its surrounding communities. This is an exciting project that will help meet the growing demand for older people's housing and create much-needed job opportunities for local people.

"We have a strong track record when it comes to providing modern, secure and vibrant facilities that allow our tenants to enjoy a hassle-free retirement. We're delighted to be working with Keon on this exciting development."
Matt Beckley, Head of Development at Keon Homes, also said:
"This is a massive milestone for the business and the first time we will be constructing an 'Extra Care' scheme."

"The location is perfect. Just a few minutes away from the centre of Newport, which gives residents the opportunity be a real part of the local community and enjoy everything the sought-after market town has to offer in terms of shops, walks, pubs and restaurants."
Keon Homes was formed by Richard Williams, Warren Bolton and Noel Sweeney in 2019 after they spotted an opportunity in the market for a developer who could provide much-needed affordable housing and care schemes. They are one of West Midlands' fastest-growing providers of affordable homes and social housing.
Kirsty Tune, Commercial Operations Director, who is leading the project on behalf of Waldeck added:
"The Waldeck team are acting as Employer's Agent, Clerk of Works and Principal Designer for the scheme and look forward to building on this new partnership with The Wrekin Housing Group and Keon Homes Limited as they provide this much needed facility to the community in Newport."

"Our team is recognised as a specialist consultant on Extra Care and Retirement Living schemes and have further expertise in dementia care. We pride ourselves in work closely with our care clients, such as The Wrekin Housing Group, to ensure their aspirations on care quality and innovation are considered and implemented within their schemes design, by utilising our experience and expertise from previous projects."