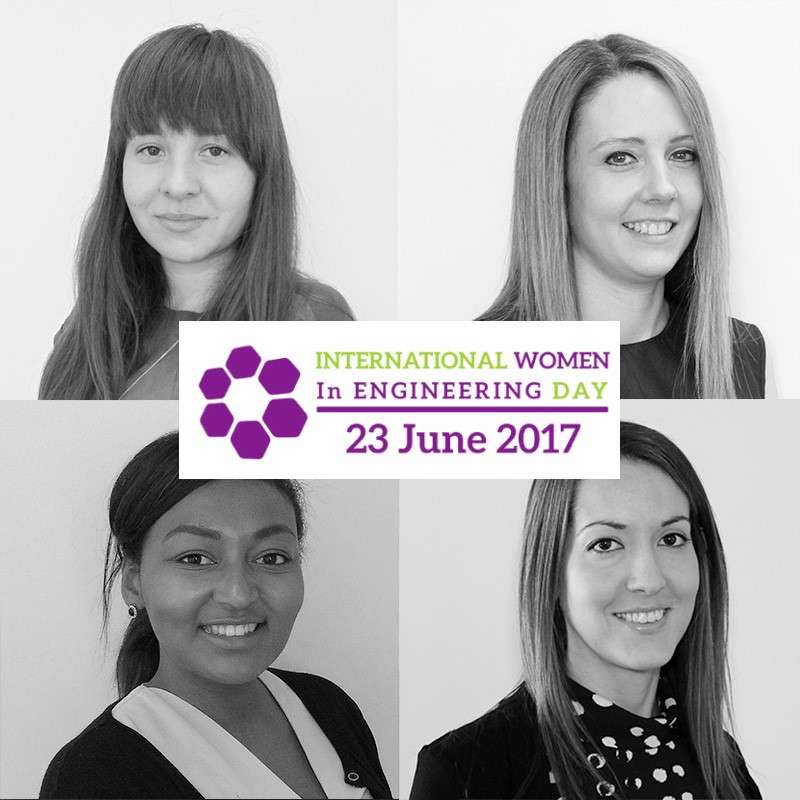 Waldeck are celebrating International Women in Engineering Day (INWED) taking place today, 23 June.
This national, and now international, awareness day focuses attention on the amazing careers in engineering and technical roles for women, and allows us to celebrate the achievements of our outstanding women engineers across the globe.
Engineering continues to be a male dominated profession despite real prospects for women and with only 9% of women taking up careers in engineering, we spoke to some of our female engineers to discuss their experiences and what the industry can do to create a more diverse working environment.
The female engineers include:
Veronica Ruby, Associate Director and Lead BIM Consultant (VR)
Sakina Elbadawi, Graduate Structural Engineer (SE)
Rachel Shaw, Senior Electrical and Lighting Design Engineer (RS)
Paulina Makowska, Assistant Engineer (PM)
1. Tell me about your job role
VR: I lead the development of the BIM Strategy and its delivery across all Waldeck offices, working in collaboration with key stakeholders across the business supporting the implementation of the strategy, company standards, workflows and procedures. I am also directly responsible for the Research & Development (R&D) activities across the business, including the innovative use of technologies and their advanced development.
I also lead the Waldeck Strategic Training / Requirements across the business, developing new training techniques within the business to ensure we have a developmental training schedule which meets the business objectives.
SE: As a Graduate Structural Engineer, I have been involved in the design of the construction elements, steel, concrete and masonry for a diverse range of projects from residential to commercial, across many different sectors.
RS: I'm a Senior Electrical Engineer responsible for the electrical services design of a number of residential and commercial buildings. My role is client facing and I work hard to build up good relationships with the projects clients, the design teams and the construction teams to ensure I can carry out my duties well. I carry out site visits / surveys, attend meetings, prepare drawings, models, calculations, specifications and reports for the various design/construction stages of a project and for various electrical services.
PM: As a Civil Engineer, my job role is to design and calculate structures that meet the needs of our clients. I am involved in working on the projects from conception, through design process, to construction and beyond. My job involves working on projects across Waldeck's key sectors such as Buildings and Development, Logistics and Transportation and Manufacturing and Technology.
2. Why did you choose an engineering career path?
VR: Leaving school, I was never 100% clear with what I wanted to do. I always had an interest in design and took Product Design as a subject in Sixth Form, enjoying the evolution of creating something from concept to making the final piece.
Not having the desire to continue my education into University after leaving Sixth Form I was looking for work which had career prospects and most importantly I found of interest. I applied to Waldeck to become a trainee draughtswoman and have since developed my career at the company over the past 15 years, undertaking a variety of roles and building on my design skills.
RS: I worked in the administration team of a building services consultancy after leaving school which was the first experience I'd had within the construction industry. I quickly realised that a career as an electrical engineer was the path I wanted to take.
PM: I always loved the idea of helping to solve some of the world's problems like providing clean drinking water and always had in my mind the consideration of the environment.
I chose to be an engineer, because the job has got a significant impact on creating economic growth and it makes the world a more sustainable place.
3. What are your career highlights so far?
VR: Obtaining an MSc degree in Building Information Modelling Management at Middlesex University, which was funded by Waldeck and was the UK's first work-based Masters with a BIM focus.
SE: My career highlights are being given the opportunity to be involved in providing technically brilliant and safe solutions to engineering problems, whilst learning and evolving into an all rounded engineer.
RS: I am currently studying for an MSc degree in Light and Lighting, funded by Waldeck, which is a significant part of my career so far and will continue to provide career satisfaction and further development.
4. What do you think the industry could do to promote a more diverse working environment?
VR: As women working in the engineering industry, it's up to us to promote engineering as an attractive career to pupils in schools and colleges, hopefully giving young women the information they need to imagine themselves having a career in the industry.
SE: It would be great to involve young women in engineering workshops in school and apprentices and generally portraying engineering as an attractive career path for women.
RS: I think that an 'engineer' role isn't a career that many people will see and know about unless a family member is involved in construction. More information on careers in engineering should be made easily available to bridge this gap
PM: Being an extremely male-dominated industry, it would be great to hear more success stories of women engineers, encouraging and promoting that engineering isn't just for men.
5. Where do you see yourself in the next five years?
VR: Continuing to further my expertise in and around the digital environment, creating innovative modelling solutions that deliver significant benefits, not only at the design and construction stage but through the lifetime of the built asset.
RS: I'm currently completing my MSc in Light and Lighting which will help towards me achieving Chartered status. My aim is to be a full member of the Chartered Institute of Building Services and receive Chartered Engineer status with the Engineering Council.
6. What advice can you offer to women who would like to pursue a career in engineering?
VR: Don't be discouraged by a male dominated industry. Engineering is a diverse area to work in and with technology changing the way the industry operates it is an exciting time to be a part of the industry.
Furthermore and from my own personal experience, I have been given the support I needed to develop and flourish and thus progress within the industry and the company.
RS: My advice is more to women who are currently pursuing a career in engineering, we need to create more female role models in engineering, who are ambassadors for the industry. I feel there's a lack of these and I think that if there were more present, young women are more likely to consider a career path in this industry.
Paul Waldeck, Founder and Director, said: "At Waldeck we encourage a diverse working environment, with over 20% of our workforce being female, working across many different roles, including directors, engineers, technicians and support services.
"I think International Women in Engineering Day is a great way to support the industry in promoting a more diverse working environment showcasing an attractive career path for young women.
"For me, I believe engineering is one of the most diverse, exciting and challenging industries to work in, as 'digital' engineers we are always looking for new ways of doing things and developing creative solutions to modern day problems and in turn creating a better way of living for us all."
To find out more about International Women in Engineering Day please visit www.inwed.org.uk