The first phase of the project comprises major infrastructure works including earthworks, highways construction, water installation and the creation of two new country parks.
As the West Midlands Interchange project celebrates breaking ground, we caught up with the Waldeck team to find out more about our involvement in the programme so far.
Waldeck have been working on the project since early 2015, and are now delighted to be supporting the joint venture between Oxford Properties and Logistics Capital Partners (LCP) as the construction work begins on-site.
Project Overview
West Midlands Interchange (WMI), is one of the UK's most significant rail served logistics developments offering up to 8 million sq ft of prime logistics facilities.
West Midlands Interchange will be the one of the largest logistic developments in the UK, designed to meet the demands of today's modern occupier, but also to support jobs, skills and training for the local community.
CGI Images: Courtesy of Blink Image
The Development
West Midlands Interchange is a DCO approved development site, with consent to deliver up to 8 million sq ft of Class A Logistics warehousing, including a key strategic rail freight interchange in the West Midlands. Units can be built from 200,000 – 1.2 million sq ft.
In 2023 main works for Phase 1 of the West Midlands Interchange project are starting. These include:
Building the first warehouses south of Vicarage Road
Developing Calf Heath Community Park, with new footways and cycleways
Building a new roundabout into the site and first section of spine road through the site to access warehouses
Delivering the initial green infrastructure, including landscaped bunding
Our Engineering Services
Waldeck have been supporting the project since early 2015, originally providing a range of Civil & Structural Engineering and Design Management services.
This initially included the earthworks and drainage strategy for the project as well as new infrastructure designs.
The team are now leading the design of the rail freight terminal and adoptable bridges that will provide essential infrastructure for the scheme.
Our in-house BIM Consultants have also delivered site-wide BIM Management and Coordination for the project, helping ensure an efficient and sustainable approach to the development.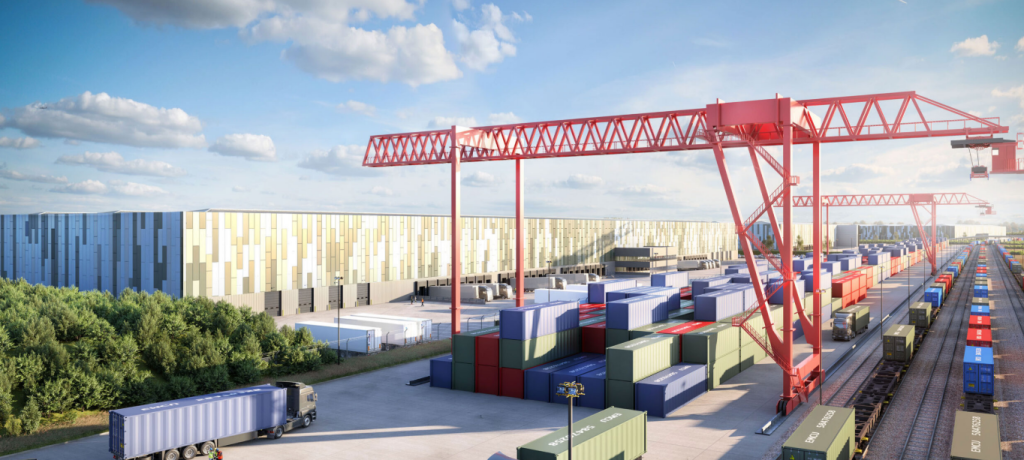 CGI Images: Courtesy of Blink Image
Tim Leach, Director of Civil & Structural Engineering at Waldeck shared:
"This has been a great project to be involved with over the past few years and for the project to reach the start of its construction phase is a testament to the hard work of the top class team and the commitment to the project vision by its sponsors.

"The Government's policy is to encourage the shift of goods from road to rail to help reduce carbon emissions and provide economic benefits. It is clear that this projet, as part of a network of SRFIs across the UK, will help realise this aim."
James Boadle, Head of Logistics & European Strategy at Oxford Properties, commented:
"Demand for best-in-class logistics space that's sustainable and well connected continues to significantly outstrip supply; especially in the UK's 'Golden Triangle'. With spades now in the ground, we are at the first step in the construction of this major project that we are undertaking alongside LCP."
LCP Managing Director, James Markby, added:
"We look forward to delivery what will be a world leading logistics hub, with a new Strategic Rail Freight Interchange, while delivering significant economic benefit to the region and nationally, and creating a milestone example for private investment that materially contributes towards a carbon net zero future."
Find out more about West Midlands Interchange on the dedicated website >