Waldeck are pleased to have been able to make a £100 donation to local RAF Veteran's Crowdfunding page as he kicks off his mission to finish restoring his Classic Mini Cooper S, which after significant amounts of work is now finally ready to be sprayed.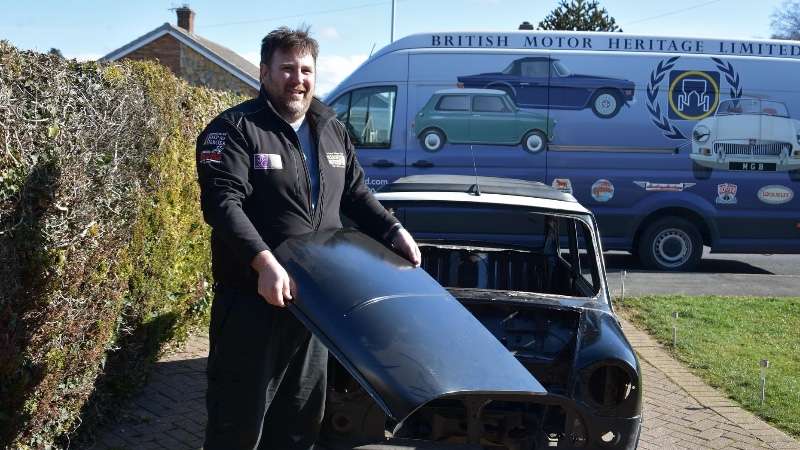 Local Lincoln man, Graham Cavill, joined the Royal Air Force (RAF) in 2002, travelling the world working on various aircraft as an Aircraft Mechanical Technician.
In 2007, Graham sustained a severe traumatic brain injury following a fall. At the time, he was maintaining the cargo door on a Trystar and fell 16 feet on to the pan at RAF Brize Norton.
We heard from Graham as he shares more of his story:
"After my accident I ended up being medically discharged from service. Working on aircraft – getting my hands dirty, problem solving and making repairs, was my dream job. When I had my accident I was unable to continue with this career due to my injury and mental health battles as a result of the injury. To say the least I felt deflated, empty and worthless.

"I was lucky enough to have the RAF Benevolent Fund who, following an assessment, provided me with the funds to purchase a Mini (now fondly nicknamed Trigger), which was and still is incredibly amazing and overwhelming. The mini was funded to support my rehabilitation, providing me with mental stimulation and helping me with my depression. My dream is to complete a full nut and bolt restoration."
Through almost 7 years of work on the Mini, which has been interrupted by several spells in hospital, Graham has worked tirelessly alongside his role as a full-time Dad, with the help and donations from friends, local businesses and the British Motor Heritage to strip down, rebuild, weld and add new panels to push forward with the restoration.
Graham is now in the final stint of the project and is Crowdfunding for a final £5,000 to complete the restoration with a respray of the Mini.
Please join us in wishing Graham all the best for the remainder of the restoration!
For more information on Graham's project, or if you would like to join us in supporting his journey to fully restoring 'Trigger' please follow the link below: