We are delighted to see the first handovers have taken place at the former Victoria Carpets Sports Ground in Kidderminster.
The £8million residential scheme is our first complete scheme partnering with Stonewater and Living Space Housing.
The site, located on Spennells Valley Road has lain derelict for a number of years, as previously planned uses for the site were seen as uneconomic because of the work needed to mitigate flood risk.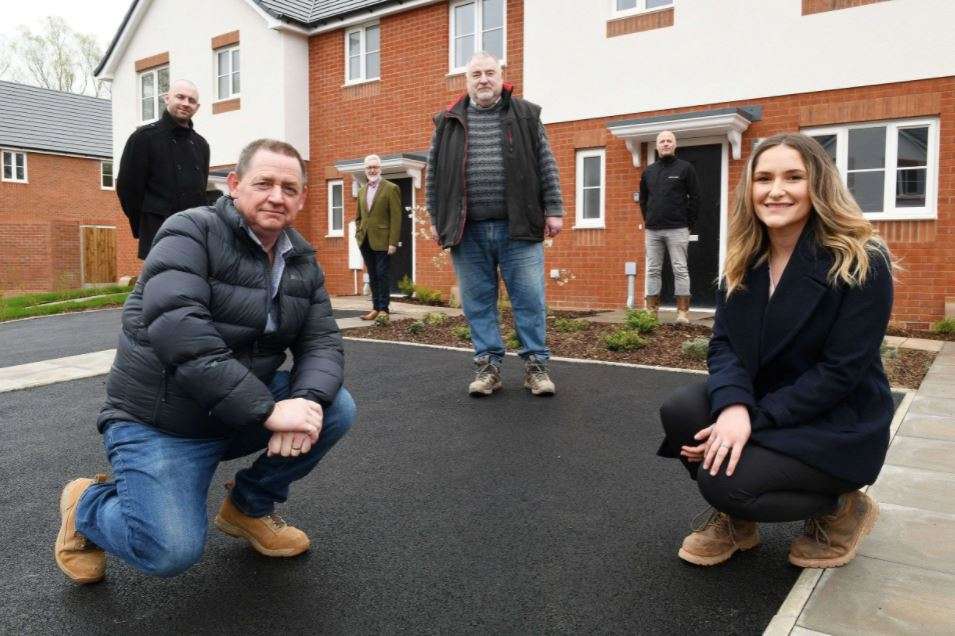 Delivering a development for a not for profit housing provider that can see the long term value of the investment needed to prepare the site to build affordable rent and shared ownership properties has made this scheme viable.
The whole developable area has now been raised by at least one metre and a pluvial flow water course has been created below ground, so that if the area did flood, the homes would not be damaged. As a consequence of the ground level being raised, all 48 homes have been constructed at virtually the same level, which is an unusual feature for a development of this size.
The new homes have been constructed using two complementary types of red brick, as well as render and are surrounded by public open space and a newly created ecological area. Living Space has also installed a foul water pumping station close to the site entrance, with a main well depth of over five metres. This new facility is designed to be adopted by Severn Trent Water. A vast balancing pond feature and porous tarmac are other key features to aid site drainage.
Steve Davies, Managing Director of Living Space Housing said:
"Transforming this derelict former sports ground into a high quality new residential community has been our most technically challenging project to date. We have worked successfully with all stakeholders to fully mitigate a number of complexities faced from the geographical position of this site and the whole team is very proud of what has been delivered here. Having handed over the first tranche of homes, we are now working at pace to complete all the remaining works, so that all 48 affordable homes can be ready for occupation."
With the development neighbouring Kidderminster Golf Club, earlier this year, Living Space commissioned traditional hedge laying professionals to install a new 250 metre 'Stafford style' hawthorn hedge boundary to respect and reflect the history of the area.
Matt Crucefix, Director of Development (West and South) at Stonewater said:
"We're delighted to have been working in partnership with Living Space to bring these much-needed affordable homes to this popular and well-located part of Kidderminster. Covid-19 has created its challenges, but it has not stopped our work in delivering high-quality affordable homes to the people who need them most.

"We are committed to giving everyone the opportunity to live in a home that they are proud of and we recognise that this is especially challenging in areas where wages are low, but property prices in towns such as Kidderminster are high. 60 per cent of the homes at this scheme are for affordable rent, with the remainder available to buy through Stonewater's shared ownership scheme."
Living Space is a development-led residential planning, design and construction services solution for Registered Providers, PRS Funds, the NHS, Universities and Defence Estates. Having launched to the market in 2019, the company is already well underway with the construction of seven residential developments across middle England, with a number of additional sites in the planning system.
The combined construction value of its development portfolio is in excess of £72million, which equates to 580 affordable houses, apartments and bungalows.
To find out more about how Waldeck support clients across the Residential sector, please call Graham Wright on 08450 990 285.